A String Of Things
is my first collection of curated patterns, inspired by all sorts! I've pulled these 10 designs together into a collection as they all share similar design elements and compliment one another. 

Nearly all of my designs can be printed onto lampshades, fabric by the meter or panels of wallpaper. I'm working on bringing fabrics and wallpapers to my website, in the mean time please get in touch for prices and samples. I have a signature colour palette that I love to use, however I can colour match to any paint chart colour, just get in touch.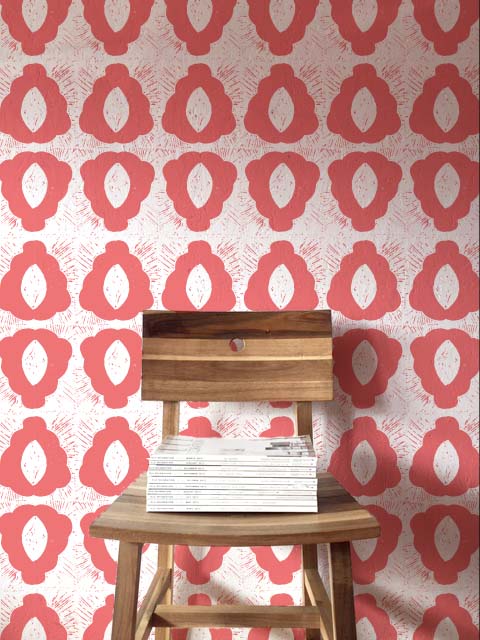 Cobb
Named after the Cobb in Lyme Regis, I was inspired to create this pattern whilst on holiday there with my family. It's a very pretty town in West Dorset. This design was inspired by the shape of harbour walls, known as the Cobb.
Created April 2018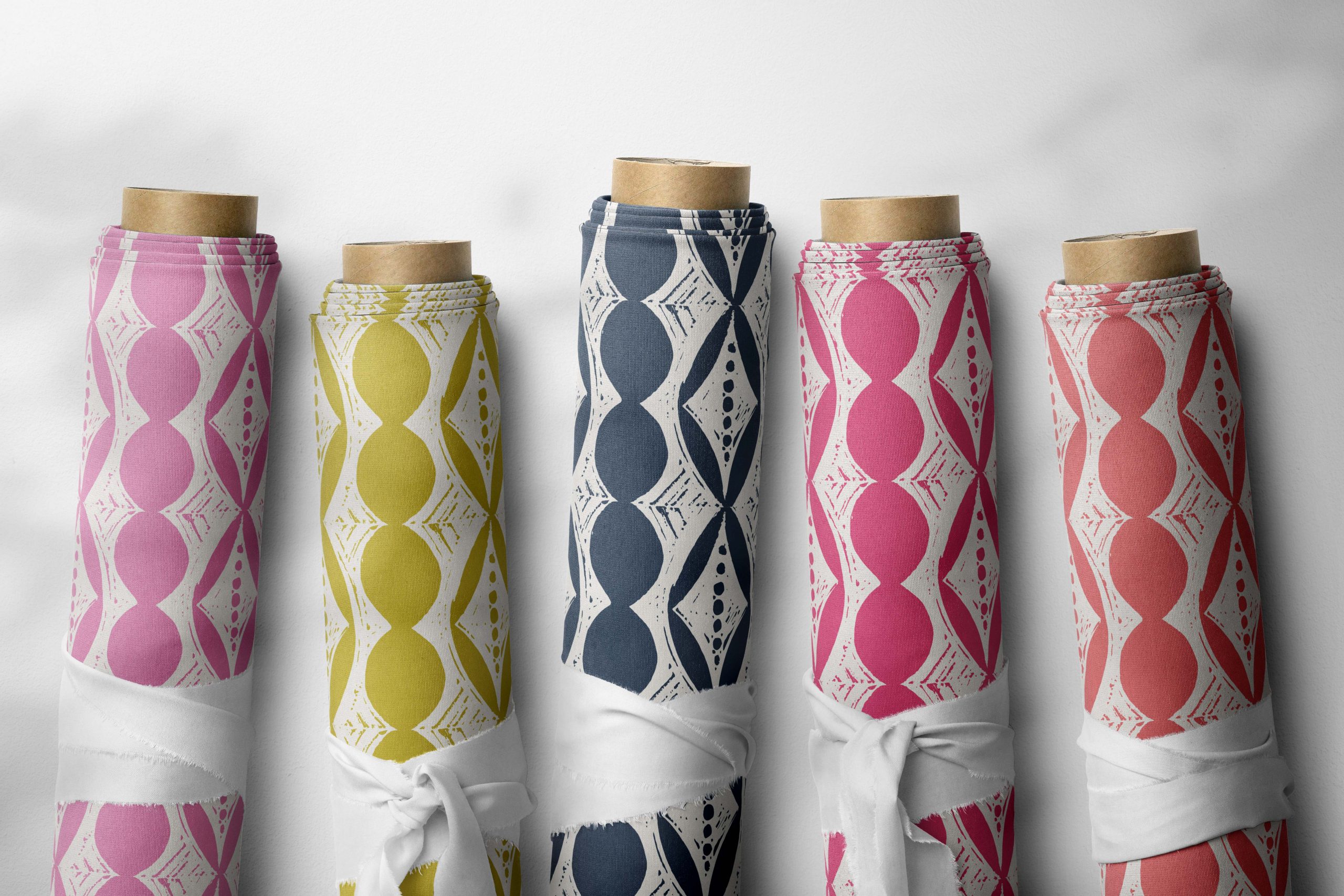 Lyme Road
Lyme Road is one of the main roads that lead to Lyme Regis. We were travelling along the road when I had the idea for this print.
Created April 2018
Hanbury
Inspired by the gate house windows at Hanbury Hall in Droitwhich. One of my favourite National Trust properties.
Created July 2018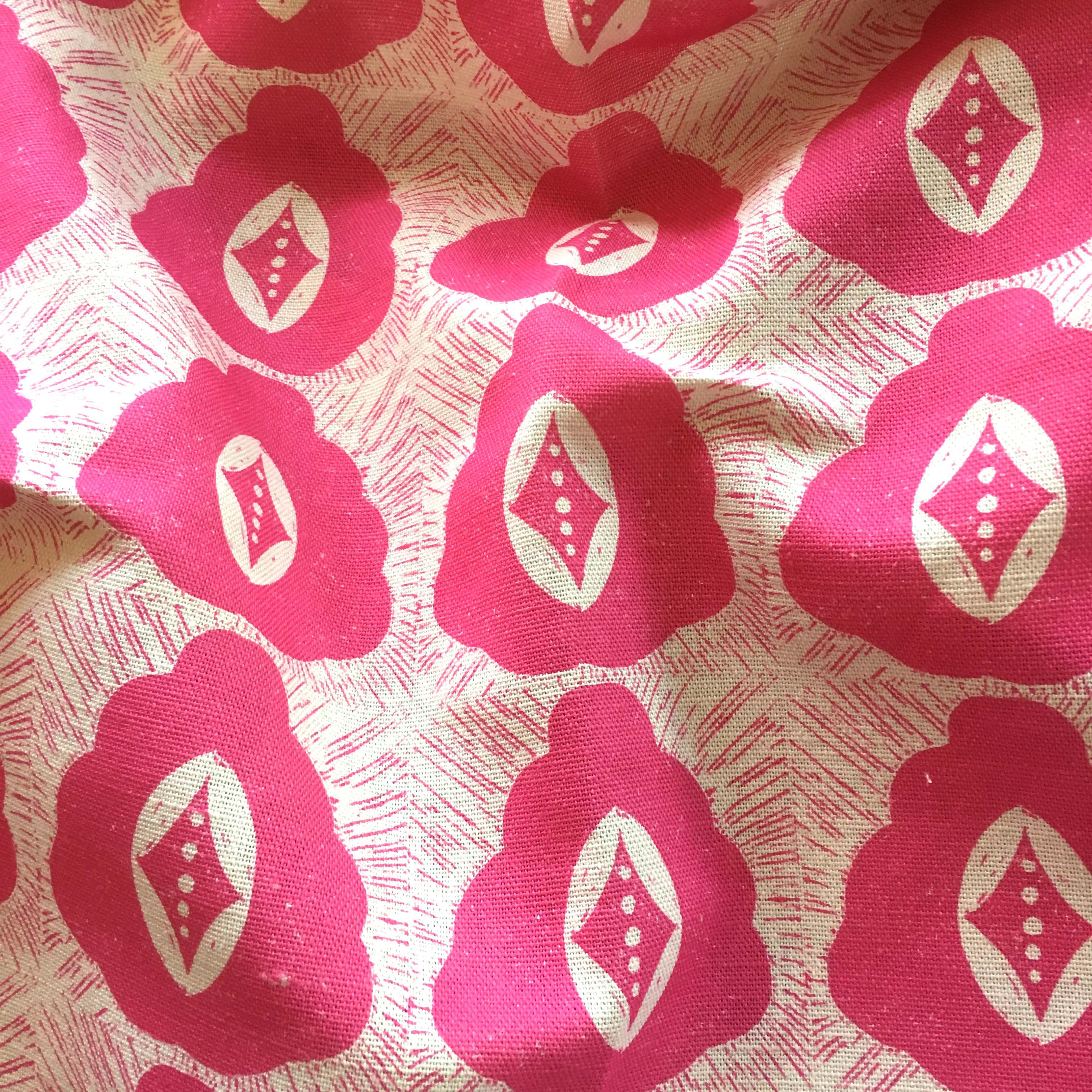 Cobb Middle
Inspired by the shape of the Cobb at Lyme Regis in West Dorset, a very pretty seaside town. Here I've scaled down another of my patterns called Cobb and added the detail in the middle.
Created October 2018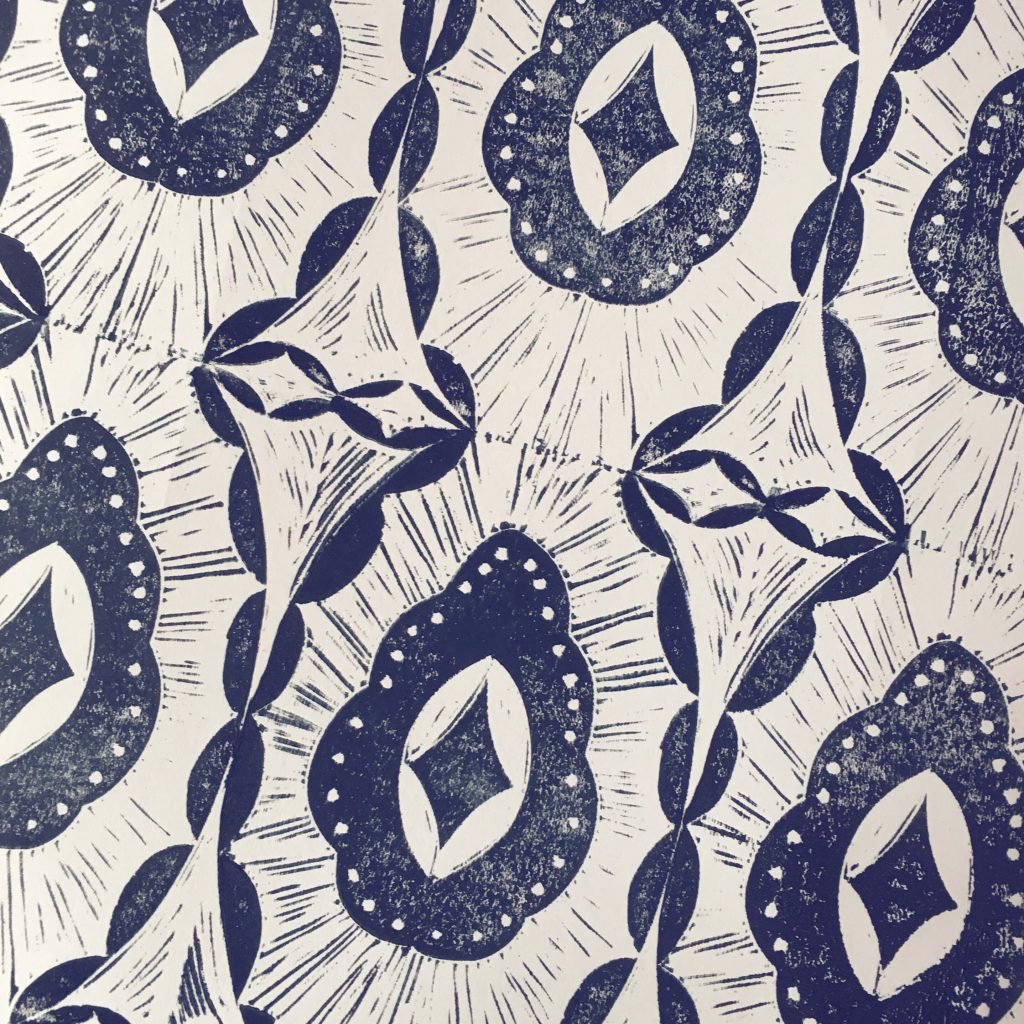 Honey
I couldn't sleep, it was 3 am, I had sore throat and annoying cough.  I doodled this idea, whilst I as waiting for the kettle to boil to make a honey and black current drink.
Created December 2018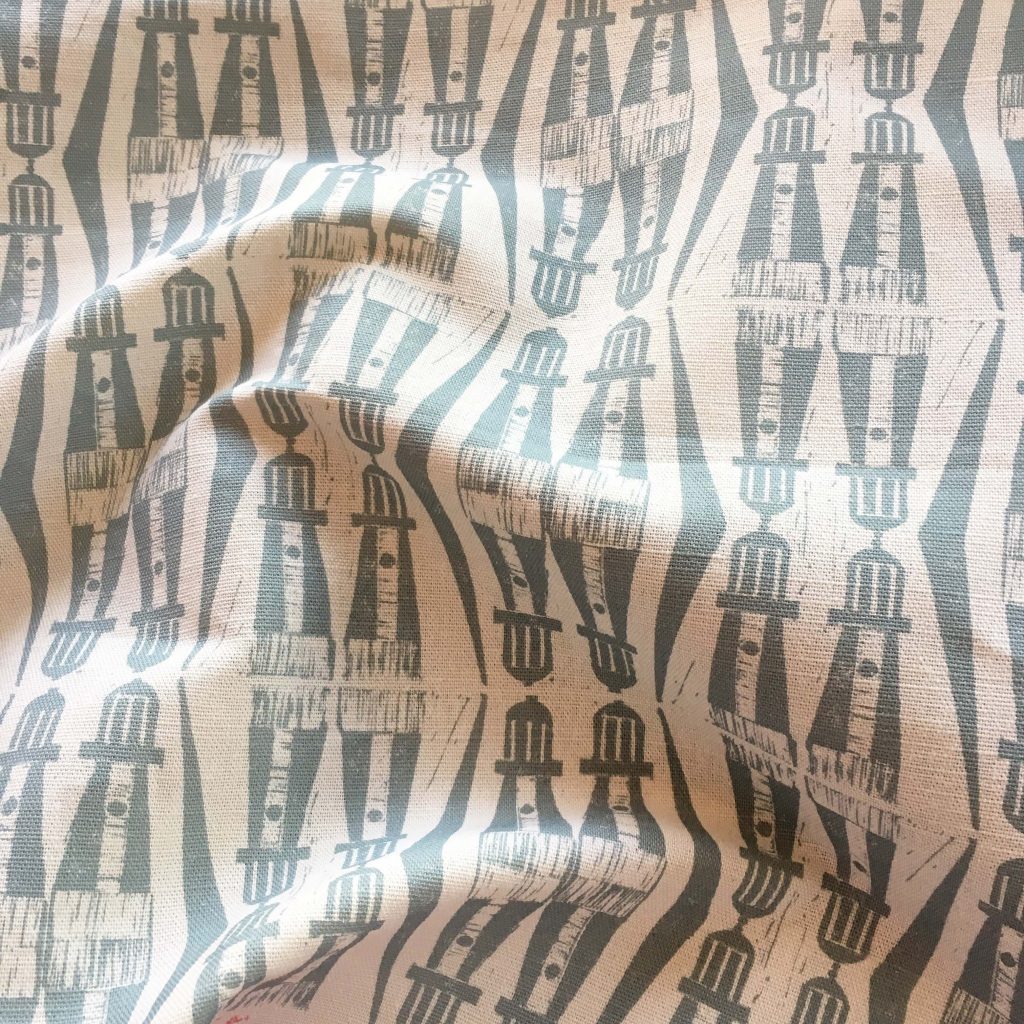 Smeaton
The Lighthouse on Smeaton's Pier in St Ives, Cornwall, was directly opposite the main window of our holiday apartment. It was always going to be in one of my patterns!
Created April 2019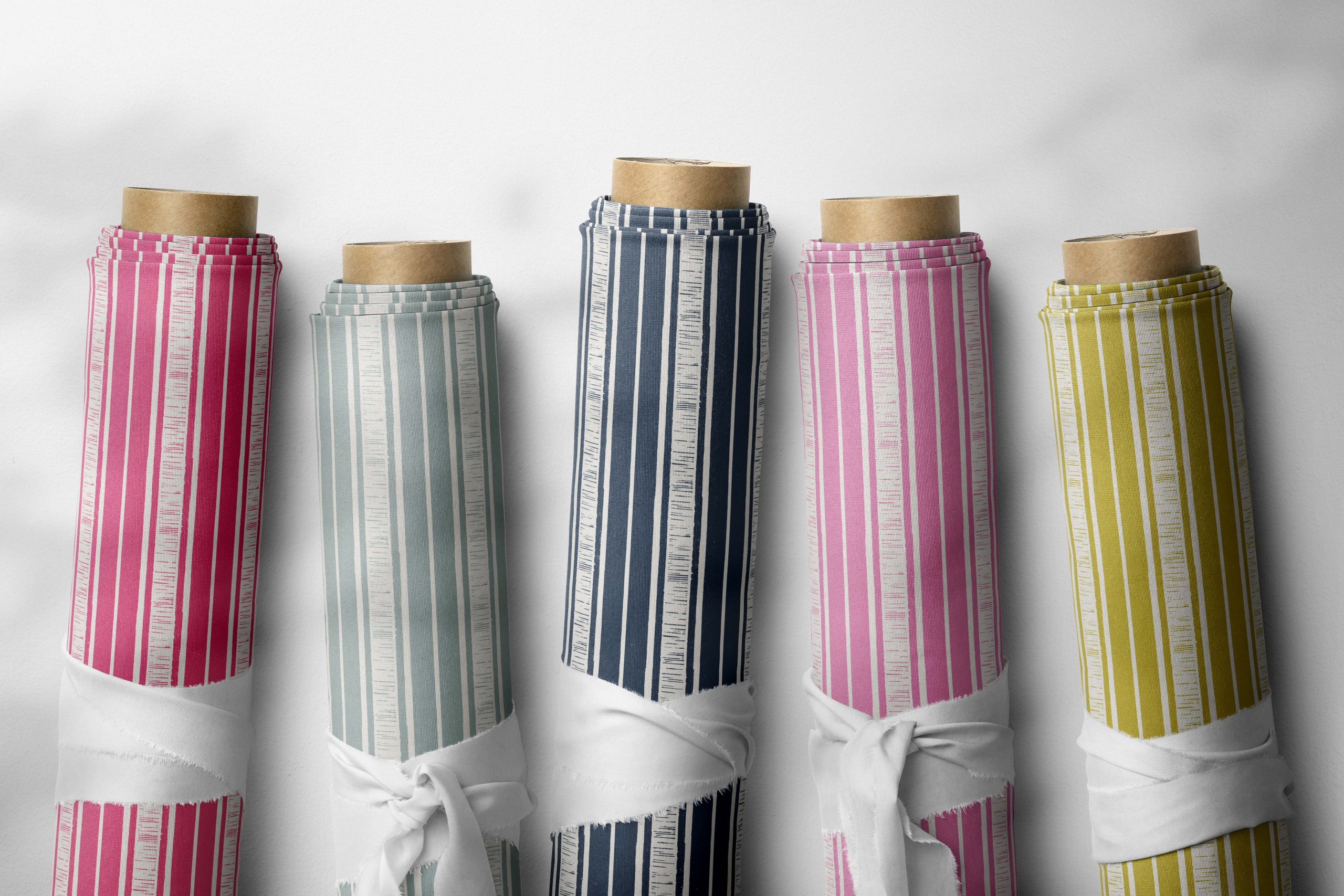 Doorway Stripe
There's an impressive Georgian house that I often pass on my travels and my eye has always been drawn to the front door. So, I carved a block that included the front architrave and the grand door, but, once I printed the design, I wasn't very happy with it.  With nothing to lose I chopped it up and the doorway section of the block resulted in this stripe.
Created April 2019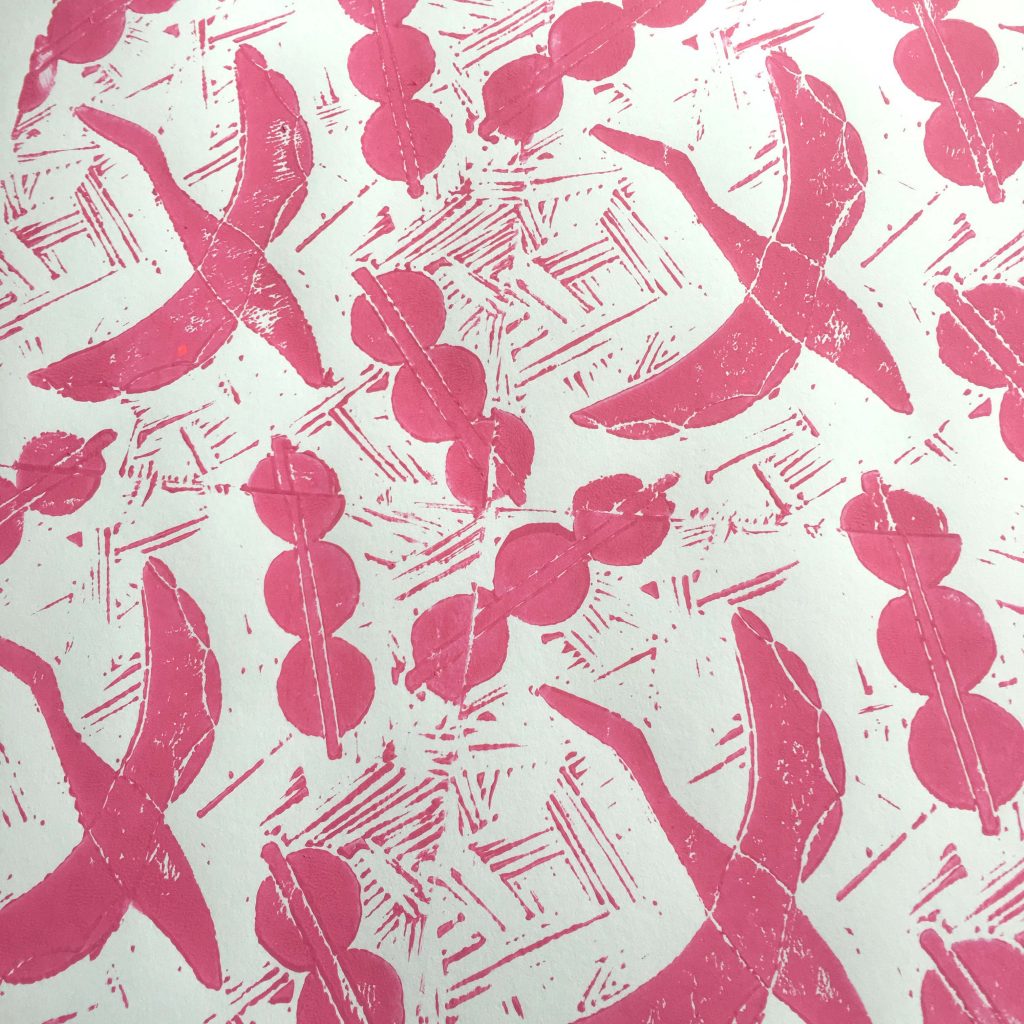 Birds & Biscuits
I don't get rid of interior magazines easily, I just stack them up wherever I can find room. A constant source of inspiration, I love revisiting them. I spotted these flying birds on the wall of artist, Bethan Laura Wood in a 2012 copy of House and Garden. The circles in this pattern remind me of those pink marshmallow biscuits, so its called Birds and Biscuits.
Created July 2019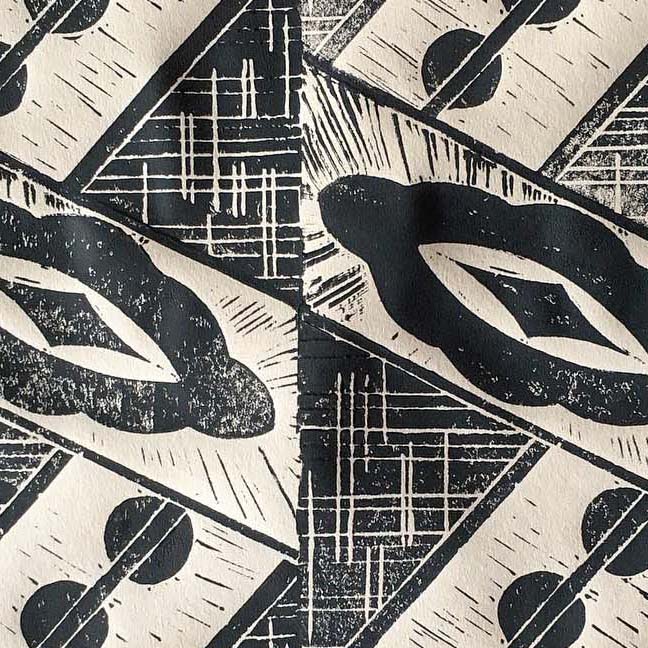 November
Architectural details continue to be huge source of my pattern inspiration. In November of last year, I came across an image of some decoratively carved wood. It may have come from a church alter or somewhere similar. I immediately had the idea to add a stretched version of my 'Cobb' motif and saw how the piece could be developed into a repeat pattern. I'm unsure of the photo origins, so this pattern is called November.  
Created Nov 2019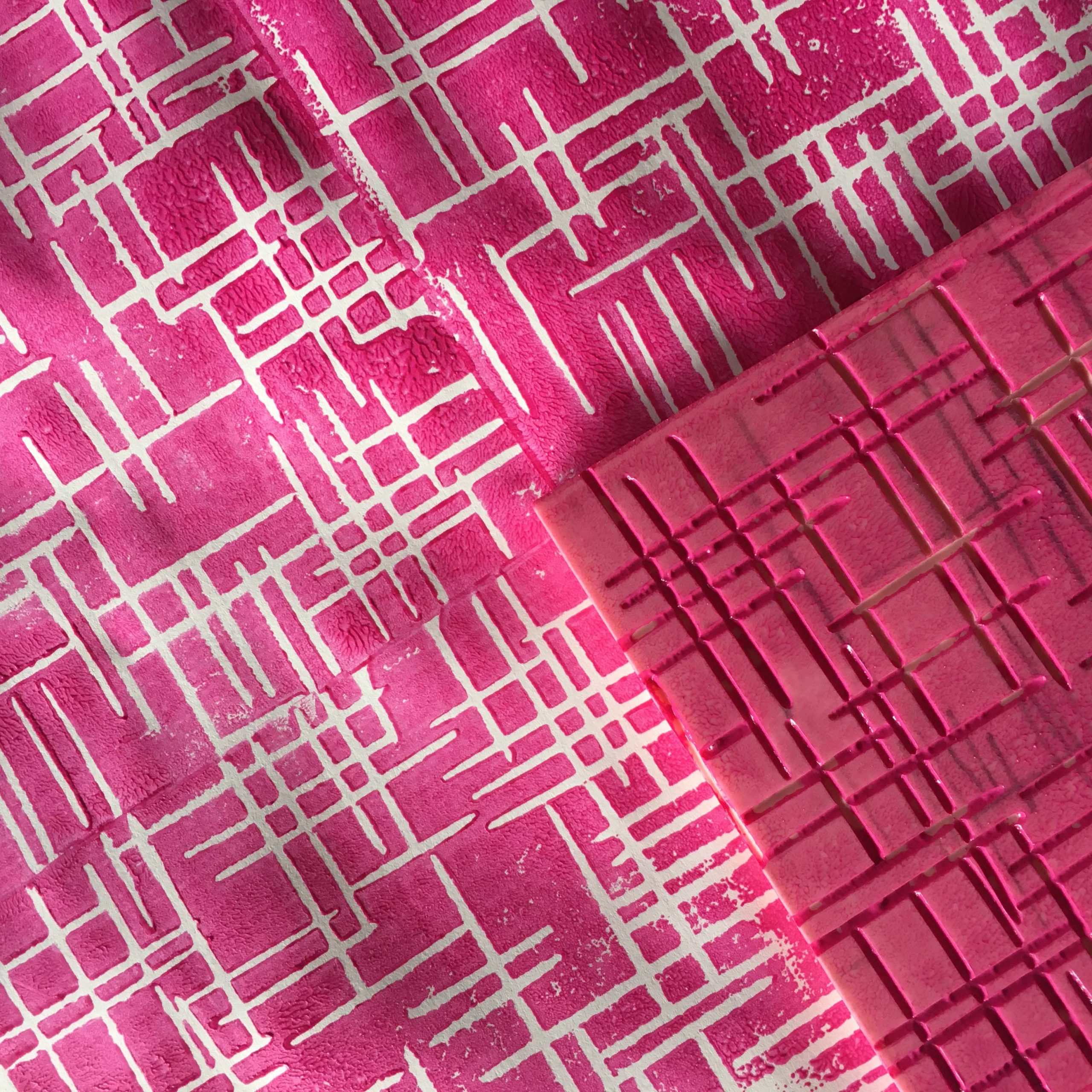 Tabletop
I wanted to create a coordinating pattern to go with the November design. So I took some of the cross hatches from the design and created a square block. The design is repeated in a grid format but the block is turned clockwise and anticlockwise each time in order to create a random pattern match. The design reminded me of a 1950's Formica Tabletop.
Created Jan 2020